Summer '08
Issue 3 is out around town- grab it-
but check out this COLOR DOWNLOADABLE FREE ISSUE WOW YES
Supplementary Content will be continuously uploaded: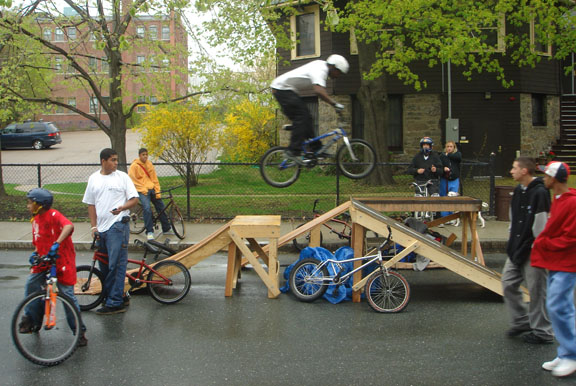 HERE's BBR's interview with Max Lee, owner of MEL's Hyde Park Bike Shop- with some pictures not in the print issue.
TO THE MAX, April 2008
BBR: When did you start riding a bicycle?
Max: It's been longer than I can remember. I do remember the first time I rode without training wheels though…it was my sister's birthday party. I was riding a 16" wheel bike and we lived on a dead end street. I rolled out of the driveway as my father was pulling the car towards it. I scraped against the side of the car screaming, "I'm riding!"
BBR: What kind of bicycle do you ride? What kind of riding do you do?
Max: I've always been jumping curbs since my first BMX bike…and destroying wheels. The first bike I built myself was a road racing bike in the BNB Earn-A-Bike program. Now I ride BMX, trials and mountain bikes, commute to work and around town by bike. I also ride a unicycle. Mostly BMX though.
BBR: When did you get serious about riding BMX?
Max: Probably in '95 or '96. I started riding with some folks in downtown Boston. There was a messenger ride, the Hell's Bells Ride, organized by Cave Dave*. He brought bells for everyone on the ride. There were all kinds of bikes – tall bikes, choppers, fixed gears, BMX. We rode from Back Bay Bikes to the arboretum and had a cookout with grills that had been carried on a few of the bikes. After that some friends and I started a regular BMX ride around downtown Boston called the Hell's Bells BMX ride. That's when I started getting serious about urban BMX riding.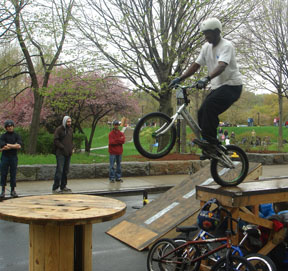 BBR: When did you start fixing bikes?
Max: In the early 90's. At first it was mostly "backyard mechanics," with a pair of vise grips. My friends and I would switch parts from one bike to another. Then one summer ('93) my mother told me I wasn't going to summer camp and that I had to find a job. That's when I called Ferris Wheels. Jeff Ferris referred me to BNB's Earn-A-Bike program. After taking the course, I got a job at Ferris Wheels and further mechanics training from the BNB Vocational Training program.
BBR: When did you decide you wanted to open your own bicycle shop?
Max: Before I went to BNB or Ferris Wheels. When I first started fixing bikes, I liked it so much I knew this was what I wanted to do.
BBR: How has it been to run your own shop?
Max: It's been an adventure. It has been everything I expected and nothing at all like I expected at the same time. I'm still working towards the bike shop of my dreams and I'm getting there…slowly.
BBR: How long has MEL's been open?
Max: 3 years so far. I bought the shop from someone I knew who'd been in the location for 5 years. I knew him from riding BMX at the Hyde Park Skate park. One day at the park he said, "I'm thinking of selling the shop." And as I dropped into the bowl I said, "sounds great!" We worked out the details later, but the rest is history.
BBR: Describe MEL's for folks who haven't been there.
Max: It is currently a work in progress. I want to have a shop where I sell products you can't find elsewhere – unicycles, trials bikes, recumbents, tandems even. I also want to sell what I like and use – BMX. I currently specialize in BMX and skateboards and doing repairs of all types. I run a full service repair shop. I sell new and used bicycles. I sell skateboards and accessories, low-rider bicycles, custom low-rider parts (think carbon fiber fenders and chainguards) and accessories, BMX, Freestyle and trials frames, accessories and custom builds. I stock Kona hybrids and I can order any bike that Kona makes.
BBR: Do you have any exciting events planned for the summer for you or MEL's?
Max: I am planning a BMX/Skate Jam (w/ the b-boy all-stars?) and fundraiser in Hyde Park Square for Bikes Not Bombs this summer. Stop by the shop for more information. I'll also be at the BNB Bike-A-Thon helping in some capacity, and possibly setting up some ramps and doing some acrobatics at the BNB Green Roots Festival.
BBR: Lastly and maybe most important, why do you ride bikes?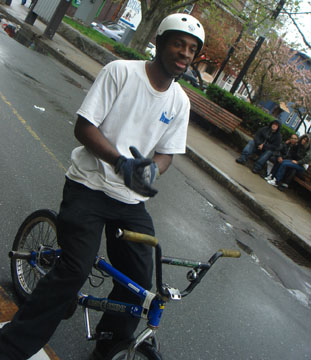 Max: There are probably three main reasons. Here they are in the order that I figured them out…
1. The first thing I got from riding a bicycle was independence. You don't have to wait for the train or for someone to give you a ride where you are going. You also don't have to pay like you would if you were buying gas or riding the train.
2. Riding bikes is healthy. I get a lot of exercise whether I'm riding to work or the store or going downtown to ride BMX.
3. After getting involved with Bikes Not Bombs I realized that bikes are also environmentally conscious. I use a bike for most trips that I make around town and a bike doesn't give off any emissions.
I think the overall reason I ride is because it is fun. I wouldn't do it if I wasn't having fun. And the bike community is like a family. How many people wave to you just because you are both driving in a car?
*Cave Dave Martinez says: "All love for Hell's Bells goes to Bicycle Beth and Aaron G. Fannon."
Photos by Jasmine Laietmark at Spontaneous Celebrations' Wake Up The Earth Festival in Jamaica Plain, May 2008